Goddess of Mercy No. 83
Time: 2017-03-25 15:16 Source: Internet
Guanyin Spirit Signed No. 83 [Li Yuan ascended the throne]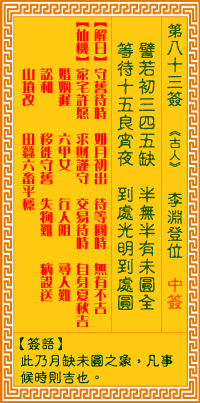 Signed Poem Version 1 <br /> For example, if the first three, forty-five toads are half or half, it is necessary to teach fifteen good nights, and clear everywhere
Signed Poem Version 2 <br /> For example, if the third, fourth, fifth, fifth, half, half, or half of it are not complete, wait for the fifteen good nights.
[Good luck] Winning lottery [House] Wei Gong
[Signature] The lack of completeness of this Gua Yue, Jiji also when everything is done.
【Explanation】 It 's good to be old-fashioned and wait at the beginning of the month.
The Holy Spirit <br /> The home makes a wish.
Xia Qiuji himself.
Ask for money.
The transaction is pending.
Late marriage.
Rokko has a daughter.
Pedestrian resistance.
The silkworm is stable.
Six animals are stable.
It's hard to find someone.
The lawsuit and.
Migratory.
Lost property is difficult.
Send disease.
The mountain tomb was changed.
Interpretation of poems and signed poems 1 <br /> For example, in the third, fourth, and fifth toads, half or half of them must not be taught completely.
Signed poem two <br /> For example, if the third, fourth, and fifth days are missing (the situation and progress of this matter are equivalent to the third, fourth, and fifth moons).
Waiting for the fifteen good nights and nights in half and a half (this has to wait, then things will be as complete as the fifteenth moon.)
Bright everywhere
[Fairy machine] This signed home makes a wish, owns Xia Qiuji, seeks for money and keeps it, while the transaction is pending, the marriage is late, the Rokko has a daughter, the pedestrian is blocked, the silkworm and the six animals are stable, it is difficult to find a person, the lawsuit is peaceful, the migration is conservative, and the lost property , Sickness sent, mountain grave changed.
[Notes] Just like the third, fourth, and fifth moons, it seems that they are not yet full; if you wait until the fifteenth night, there will be bright and clear full moons everywhere. Contentment is self-sufficient, such as the beginning of the month, until the end of the day, everything is not bad. This sign is like the beginning of a month, and it is good when everything is done. This signatories. Like the beginning of the month. When everything happens. It will take time. Fan Ji who came to Ji. Juner is a time of bad luck. This time is stubborn. When trying to make a fortune. Instead they will lose out. Should be controlled. It should not be left unattended. You must stay until the fifteenth good night. Moonlight is visible. To Qingguang. In other words. Contentment is self-sufficient, such as the beginning of the month until the end of the world. This sign means "moderate in everything". Means the parties, living within their means. Everyone has more or less personal preferences and interests, such as someone who likes to climb mountains, someone who likes to sing, or buy things, drink wine, etc. It is a good thing to have hobbies and pastimes, but it is also a way to express stress. But if you go too far and become addicted to it, it is also very dangerous. Excessive exercise can lead to physical overload, excessive expenditures can lead to inadequate living, excessive drinking can cause liver damage. Therefore, everything should be moderate, and it is usually necessary to have the ability of self-discipline and self-restraint. You should always review your own behaviors. If there are inappropriate or bad habits, you must be able to reflect deeply and correct them in a timely manner, so that you will not make mistakes and make mistakes.
[Allusions] Li Yuan was a general who started his troops in Taiyuan at the end of the Sui Dynasty. His subordinates included Qin Qiong (shubao), Xu Maogong, and the bite of gold. Changan ascended the throne as Emperor, and his country name was 'Tang', for Tang Gaozu. The Tang Dynasty has more than 200 years in history. Li Yuan reigned for nine years and was succeeded by Li Shimin (Tang Taizong).
The essence of this check
Difficult adventures and opportunities. The time is not ripe yet.
【explain in detail】
Cool Moon Solution Everything
About one-third of this matter is currently underway, and two-thirds of the effort or waiting or the way to go can reach the goal. In the process, there are still wind and rain tests.
If love marriage asks when marriage comes
The time for your marriage has not yet arrived and you need to wait.
If you ask the person you want to interact with <br /> If you want to pursue the one you want, the time is not mature, and you can't wipe the spark of love. You also need to prepare more knowledge about love management and more life experience.
If you can ask the current person to go further or get married <br /> If you have been dating for a long time and want to talk about marriage leave, your love is not mature enough, and you need more contacts and mutual understanding to determine whether each other is suitable, or To understand how to get along with each other, or to understand how love should operate, you also need to know the parents of both sides and build a good relationship. These topics are all things you need to work on.
If love or marriage is facing breakups or troubles, ask for recovery or reconciliation
If love is facing a breakup, or someone who has already broken up, every 15 or three days before the lunar calendar, this is a good time for you to meet and recombine. In these days, tolerate and treat each other so that love can reunite. And even if it is compounded for a while, there will still be a lot of ups and downs on the road in the future. This is all you need to be prepared for.
If you are looking for work or career prospects
If you are a job seeker, your best time to find a job starts 15 or 3 days before the lunar calendar. This is a good time to find a job.
If you ask job operators, you still need more experience and experience in your job. If you want to be used or promoted, there is still a way to go.
If you ask about your career
There is still a lot of room for development in your career, and there are still many shocks waiting for you to spend. At present, it has only reached one-third of the career peak.
If you want to start a business, <br /> If you want to start a business, your current preparation is not enough, and the timing is not mature. For the understanding of the market, the topics of preparation of business tools, management of personnel, search for sites, financial and material resources, etc. are all things you need to strengthen. Only about one-third is being prepared so there is room for strengthening.
Examination contest promotion election if asked about the future of the exam or various competitions <br /> Will the various competitions succeed? In fact, your preparation and strength are not enough, and you need to continue to strengthen, so the recent trials have not been possible. If you want to participate in various competitions, you should make improvements and preparations in advance so that you can pass the level smoothly in the future. If your trial is in the future, then starting from the present, it will be enriched, and there is a good chance that you will get the title.
If you ask for promotion or promotion career <br /> If you want to know if there is hope for this promotion, if you are currently promoted, in fact, your preparation is not enough and it is not optimistic. If you want to be promoted in the future, you usually have to be prepared for future opportunities, and you can make it in one fell swoop.
Investment and wealth management
If you ask a financial management performer, the current investment is not profitable, it will take time to wait. While waiting for the market to rise and fall, this is also the pressure you have to bear. If you can continue to wait, you will have a good profit in the future.
Doing Business <br /> Doing business asks prospects. At present, your business still has a lot of room to play, and there are still some business storms to face. As long as you operate with proper methods, you can reach a brilliant career peak in the future.
Real estate transactions <br /> If you want to buy or sell real estate, you still have to wait.
Treatment and health <br /> If you ask the patient, there is still room for your disease to worsen. This is what you need to prepare. It is recommended to use more natural remedies. Or practice a lot, this can treat chronic diseases.
Change and Change <br /> Things do n't flow smoothly and I want to seek change. In fact, the process of this thing is originally to be rainy and windy. Whether you have to take the test of wind and rain and succeed in the future, or start from scratch and restart your business, this is your own thinking.
Praying for Pregnancy <br /> If you want to conceive , you still have some homework to prepare, adjustments to your daily life, and physical conditioning, you also need to master the opportunity, three days before the fifteenth day of the lunar calendar At the beginning, this is the peak period of conception. Please calculate the days so that the couple can conceive in the same room.
Lawsuits <br /> If one asks the future of the lawsuit, the lawsuit has gone only one-third, and there will still be a lot of wind and rain shocks in the future, which will be faced in the future. If you can negotiate early, you can save mental exhaustion and running.
Finding People and Finding Objects <br /> What is the fate of lost objects?
Traveling abroad for a long time <br /> If you want to travel a long distance for development, the time is not mature, and your own preparation is not enough.
Signing a poem story ◇ Li Yuan came to the throne in the last years of the Sui Dynasty, the emperor Sui was corrupt, and he was playing around.
In 618 AD, Yu Wenhua, Sima Dezhang, Pei Qiantong, and others launched a mutiny, the Emperor of Sui Dynasty, and Yang Hao as the emperor.
Soon Yu Culture and Qin Wang Hao claimed Xu Emperor and founded the country.
The following year, Tang was annihilated by Li Shentong and Xia Wang Dou Jiande.
After learning of the death of Emperor Wudi in the Central Plains, Luoyang defended Wang Shi as the emperor, namely Sui Ai.
At this time, Li Yuan abolished Yang Ying, and he became emperor in Taiyuan, changing his country name to Tang. This is Tang Gaozu.
Signing poem story Ⅱ Ma Zhou entered the capital and voted for the hotel. Ma Zhou lost his official position teaching in Bozhou because of a love drinking accident. Thinking of Chang'an, he went to the hotel to drink at the table next to him. Half remembered the need to quit drinking, and then drove the rest of the wine into a basin to wash his feet. The owner feels strange, asks for the context, and provides entanglement and introduction letter, so that he can stay in Changan's relatives' home, Changan.
At that time, it was the fifth year of Zhenguan (632 years), when Emperor Taizong ordered the officials to make suggestions about the success and failure of the court administration. So Ma Zhou wrote more than 20 strategies and was appreciated by Tang Taizong. After entering the province as the official, the following year was promoted to supervisor Yushi. Ma Zhou handles things carefully, especially good at words, and is praised by others. Tang Taizong once represented: "If you don't see Zhou, think about it for a while", so his promotion is fast. Eighteen years of Zhenguan (645), Ma Zhou was promoted to Zhong Shuling.
Case of master signing:
Case number one:
I broke up with my boyfriend a few days ago, but the specific thing is a very small thing, but I can't forgive him. He said he wanted to regroup, but he was unwilling. I went to the temple and asked for the 83rd sign of the Guanyin Spirit sign because of emotional issues. I want to know if he is his real life son. Friends who understand how to sign can help solve it!
Master signing: This sign makes you urgent, you need to wait patiently, saying that the month is not full, so there is a chance of reconciliation, but the time is not yet up.
Case two:
Because I accidentally saw an unfamiliar number on my boyfriend's mobile phone, I still added it to the blacklist. I intuitively told myself that the number must not be an ordinary friend relationship, so it was a girl who hit it cheaply. With your boyfriend, you know that your boyfriend has an ex-girlfriend. So I broke up with my boyfriend for this matter. But I didn't want to divide but I couldn't make it through myself. Now I have got the 83rd sign of Guanyin Spirit. What do I want to do?
Master untied: Specifically, the two of you are still in the end, just a little stumbling.
Case three:
I have been graduating for a PhD recently and I am very upset and even frustrated at finding work. I went to worship Guanyin yesterday, so I think it may be a little tricky to ask for a visa online. I first got the 83rd sign. It seemed that the site was 83 before, because it was 83 a few months ago. It may be broken.
Master untied: At present, it is not easy to move, first seek stability, and everything is done without any trouble.
Case four:
I am 28 years old. I recently wanted to ask when was the peak period of my life career? I don't want to be so busy, I want to do my own career. On the Internet, I found a 83rd Guanyin spiritual sign. I would like to ask the masters who understand the signing to help.
Master signing the sign: It is not written clearly to ask for money and keep it, or your career needs to wait further. It is also out of date to change jobs. There is currently no major change in your career, and you need to wait for changes.
Huayi Fortune Telling Network reminds you: No matter whether you are lucky or bad, do n't have to be happy or discouraged. Fortunately, good fortune is bad luck, bad luck is good luck in the past, and doing good things is the root of good luck. (Reprinted, please indicate from -Huayi.com: allblogsite.com)