Goddess of Mercy No. 89
Time: 2017-04-09 22:07 Source: Internet
Guanyin Spirit Signed No. 89 [Looking at Yaohua]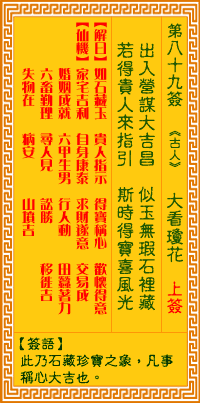 Signed Poem Version 1 <br /> Entering and leaving the camp to find the Dajichang flawless jade is hidden in the stone.
Signed Poem Version 2
Get in and out of the camp to find Dajichang's jade-like flawless stones hidden in the noble to guide Stewart's happy scenery
[Good luck] Signed up [Palace] Kuniya
[Signature] This hexagram stone treasure treasure image, everything is great.
[Solution] As a precious person in Shizang instructs Debao to be happy and proud
[Fairy machine] This signed home is lucky, self-contained, seeking for money, successful transaction, marriage success, Rokko male, pedestrian movement, field silkworm, six animal care, find people, litigation, migrating Kyrgyzstan, lost property, Good health, mountain grave.
[Notes] Going out to seek fortune is very good, just like the beautiful jade that was originally hidden in the stone; now, due to the instructions of a superior, he will take it out. Like jade, the noble pointed out that Debao is satisfied and is happy. The sign in the jade, hidden stone, is awesome in everything. This signatories. Elephant in the jade. Anyone who feels great at Jichang also. Well signed. Get in and out of the camp to find a big Jichang. Jun Jinfeng is among the flawless jade hidden stones. Can get your pointer. Support. Eventually won the treasure. At this moment, I am very happy. Exciting. Only those who do not care about the heart. Not forgetting morality. Goodness. In other words. This sign is pointed out by the nobles such as the jade, the treasure, and the treasure, which is dear to you. This sign means "aspiring to succeed". Remind the parties that things are artificial. There may be things in our lives that we want to do, but we don't implement them. As time goes by day by day, the thought of "want to do" in the mind may become more and more hesitant, or drag on for a day. Rather than letting things go, let 's talk about them and look around. If you have the opportunity, take the initiative and try hard. Don't be afraid to be too late or worry too long, I believe that as long as you have the heart, there will be new opportunities at any time.
[Allusion] Qionghua blooms once a year, and in the evening. Emperor Sui Yang heard that there was Qionghua in Yangzhou, and he used migrant workers to dig a canal. He went south to Yangzhou to see the flowers, and was killed in Sui. Or refers to the treasure flower of wonderland.
Interpretation of poems, signing poems, signing poems, two overall interpretations <br /> Entering and leaving the camp to plan Dajichang There is a beautiful jade hidden, which needs to be developed to be presented.
Now, fortunately, the superiors have pointed to the nobles to guide the lucky and superiors to get the treasure. When the heart is hilarious, the treasures are so beautiful that they can discover their treasures.
The essence of this signature <br /> Tibetan jade in the stone, available for development.
【explain in detail】
Cool Moon Solution Everything
This signpost says that what you are looking for has great potential. As long as you develop it with all your heart, you can discover your potential and succeed.
If love and marriage ask when marriage comes, <br /> If you ask marriage, when you come, your condition is very good, there is no problem in finding a good person. As long as you build up your confidence to run a business, you can get a lifelong partner.
If you ask the person you want to associate with, <br /> the person you want, his condition is also very good, and it is worth your pursuit. As long as you manage this love well, you will have great fruits in the future.
If you can ask the current person to go further or get married <br /> If you have been dating for a while and want to get married, you should have confidence, because your other companion is also very good, he is also a good wife (or Good husband), it is worth your marrying with him.
If love and marriage are facing breakups and difficulties, ask for reconciliation or relationship reconciliation. <br /> If love breaks up and want to recover, I do n't know if it is okay. Temporary quarrels between men and women are inevitable, as long as they are repaired afterwards, this love can be compounded. And this ideal object, you treat it with all your heart, go and save him!
If you ask for a job in a job search and entrepreneurship career <br /> Even if you don't find a job for a while, don't be discouraged. You will find a good job. It takes time to find. As long as you have patience, this good job belongs to you.
If you ask for work
Even if the current job is not smooth, in fact, you have great potential. As long as you continue, this potential can be demonstrated and therefore reused in work.
If you ask about your career
This business is a very promising business. It takes time to develop. As long as it continues, the future will be brilliant.
If you want to start a business, <br /> If you want to start a business, this can develop your potential, so this business is well worth running.
Although the business may be a little cold at the beginning, as long as it continues, the future can flourish.
If you want to participate in various competitions, you must have confidence in yourself if you want to participate in various competitions. Inspired by the competition, your potential can be fully revealed, so it is on the list. Please go all out to achieve great results.
If you ask about promotion and promotion career <br /> If you want to be promoted, you are the one with the most potential. Under the screening of this promotion, you can hope to be selected. Please keep a low profile to maintain the atmosphere.
Investment and wealth management
If you ask whether you can invest, this investment tool may not see the future for a while, in fact, this is a very promising investment target. As long as you persist, you will end up with a lot of money.
Business
If you ask about the future of business, this business is a business with great potential and a cause worthy of betting. As long as you continue to operate, you can achieve great success in the future.
Real estate transactions <br /> If you want to buy real estate, this real estate is like an unknown diamond. As long as you hold it for a period of time, it will shine in the future.
Treatment and health <br /> If you ask for treatment, the disease can be cured. As long as you use the right method and persist, you can recover.
Change and change <br /> I do n't want to change now. In fact, the current discomfort does not mean that the future is not good. Therefore, you should keep your current life and continue to run this business, and this matter will be brilliant in the future.
Praying for Pregnancy <br /> If you ask a pregnant person, your fertility is not a problem. As long as you live with confidence, you will be able to do it in the future.
Lawsuits <br /> If you ask a lawsuit, this case is good for you. If you continue to sue, you will definitely win.
Finding People and Finding Things <br /> Lost property is covered by something. Go and discover him.
Traveling abroad for a long time <br /> If you want to develop far away, going abroad is a good place to play. As long as you persist in your business, you will be able to excel in the future.
The story of signing poems 1炀 The emperor looked at Qionghua Qionghua once a year, and in the evening. Emperor Sui Yang heard that Yangzhou has Qionghua unparalleled in the world, white as jade, elegant and graceful, elegant and elegant. Take the dragon concubine in a dragon boat and go to Yangzhou to enjoy the flowers. The pomp is full of momentum and the flag is flying.
(This story shows that things are as precious as this "Qionghua". If you do n't see it now, you are surprised.)
Signing a Poem Story 2 ◇ Jiang Taigong Weishui met Wen Wang, Xibo Hou Jichang (later Zhou Wenwang), and saw the king of Wudao, so he asked the world 's wise men to overthrow him. Jiang Taigong knew that he was fishing by a straight hook beside Weishui. This news caused Ji Chang 's note. Ji Chang and Jiang Taigong talked about the world and felt very useful, so they returned to Xiqi City and worshiped as a military division.
(This story says that things are like "Jiang Taigong", he is a rare treasure.)
Case of master signing:
Case number one:
Now a company has been working for three years, but there has been no improvement, and the leadership has not paid special attention to it. So I have the idea of changing jobs. I want to ask if it is suitable to change jobs now?
Master untied: Your current job is a bit of a curiosity for you, but don't change it in a hurry. You must have the guidance of a noble person to make it happen. You are a very intelligent and thoughtful person, so don't worry, let's find this noble person together.
Case two:
Today I asked for the 89th sign of a Guanyin Spirit sign on the Internet. I asked if my work could be implemented in the near future. I hope that those who understand the signing can help solve it.
Master signing the sign: This sign is signing up, meaning you can go to work or do your own work, just like a piece of beautiful jade wrapped in a stone. If there is expert guidance, then you can get the precious jade.
Case three:
Ask for a Guanyin Spirit signing 89. I do n't know what the temple master said. I didn't figure it out. I asked for the results of Guanyinling, and I don't know how I am doing this test. Thank you for your friends here.
Master untied: According to Guaxiang, your grades should be good, don't worry about it, huh, I hope my sincerity can change to your satisfaction!
Case four:
I want to ask if I can go to Japan to study next year, because my family is worried that I am still young and I am not assured that I will go to Japan alone, so I still do not agree with me. sign.
Master's signing: It is a lucky sign. According to the signing, you can say that it is "all things are only in the wind". The timing is not mature. Your use can help your important people and make things go smoothly.
Huayi Fortune Telling Network reminds you: No matter whether you are lucky or bad, do n't have to be happy or discouraged. Fortunately, good fortune is bad luck, bad luck is good luck in the past, and doing good things is the root of good luck. (Reprinted, please indicate from -Huayi.com: allblogsite.com)